Ugh… it's time to potty train Ezra. I've been seriously dreading this. As much as I adore my little boy, he definitely has one of those personalities where everything turns into a battle! We first tried when he was showing signs of readiness around 18 months. He had probably 7 or 8 successful goes (with both "things" if you catch my drift) and he seemed really excited about it, but one morning he did a complete 180 and started screaming his head off any time we tried to put him on the potty. So we backed off for a while.
We've been trying it again casually now for the past few months and have used all sorts of training methods, but with no success thus far. We've decided it's time to knuckle down and get this thing done. He had a bad experience several weeks ago where he decided he was too big for the potty seat on the toilet and ended up almost falling in so now he's terrified of sitting on the big potty. While I'm not exactly looking forward to cleaning out a potty chair, he needs something he can feel comfortable and safe sitting there on his own. Plus, we've been changing diapers for the past 2 1/2 years so what's the difference?
We've been looking around at modern potty chair options and narrowed it down to two:
Boon Potty Bench with Side Storage
or the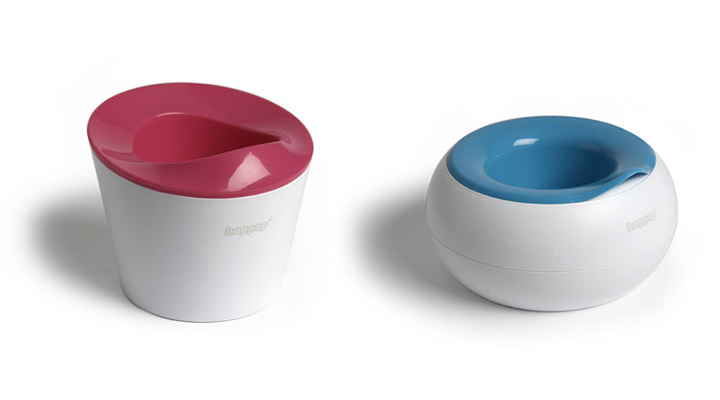 The Boon is also available in blue and the Hoppop potties are also available in green. We decided to order the Boon Potty Bench (in green) because it wasn't very much more than the Hoppop potties and has way more features. It doubles as a bench that can support up to 300 lbs and has "secret" storage spaces on the side for his "potty time only" toys.
So that's where we are. Hopefully this works out! If anyone wants to share some training tips, feel free!
0
Tags: Modern Baby, Modern Kids
This entry was posted on Monday, September 13th, 2010 and is filed under
Our Modern House
. Both comments and pings are currently closed.