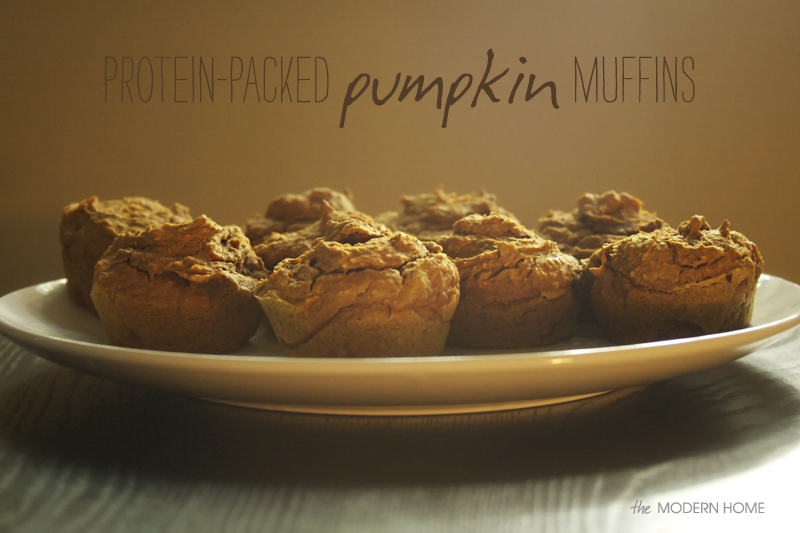 Like I said earlier, I'm beyond ready for fall. And since I can't wear jeans and boots here for another couple of months I'm looking to other means to get my autumn fix: PUMPKINS!!
I suppose pumpkin is one of those things you either love or hate. It's kinda like coconut or seafood in that regard. No fence sitters. I love pumpkin. Brad hates it.  The boys tolerate it in small doses. This means when I bake anything with pumpkin, I go into it with the assumption that I will be the only one in the house to eat it. So in order to remain on friendly terms with my waistline I came up with a low-calorie high-protein pumpkin muffin. Each muffin only has about 80 calories and is packed with heart healthy goodness. This is a variation on a banana muffin recipe I found on pinterest, and after altering a bit, have enjoyed all summer.
High-Protein Pumpkin Muffins:
2 1/2 cups old-fashioned oats (not quick cooking)
1 cup canned pumpkin (use plain pumpkin – not pumpkin pie mix)
3/4 cup unsweetened apple sauce
1 cup plain low-fat greek yogurt
6 tbs egg whites (I buy egg whites in the carton. 6 tbs = 2 eggs or you could use 4 egg whites. I just hate wasting yolks.)
3/4 cup stevia for baking
1 heaping tbs of rice protein powder
2 tsp baking powder
1 tsp baking soda
2 tsp cinnamon
1 tsp pumpkin pie spice
1. Pre-heat oven to 350 degrees. Spray your muffin tin with non-stick cooking spray and set aside.
2 In a food processor or blender, mix all the ingredients together. Blend until smooth. (I usually blend my oats up first before adding anything else. This helps make them a little smoother)
3 Divide mixture among muffins tins and place into pre-heated oven. Bake for 20-22 minutes or until tops are lightly golden brown.
4 Allow muffins to cool.
5. ENJOY!!!
A few things to note:
– These muffins are very moist. A toothpick might not come out clean. They should be done if they have baked the allotted amount of time and the tops are nice and golden.
– 1 can of pumpkin has two cups of pumpkin in it. I use half of the can and put the rest in the fridge for the following week. You could also use the whole can and leave out the apple sauce. This makes the muffin batter a little thicker.
– These would also be really yummy with chocolate chips or walnuts mixed in so feel free to experiment!