I'm a total commitment phobe when it comes to pillows. (Rugs too, but that's another post.) Am I alone in this or do other people suffer the same affliction? My first problem is that I don't like the color of the sectional. We had to pick our color from a one inch sample and went with slate gray. It ended up having bluish undertones. I'd like it a little better if it were a warmer gray and think it would be easier to pick rugs and pillows if that were the case. At least that's what I'm going to blame it on. 
This is our couch: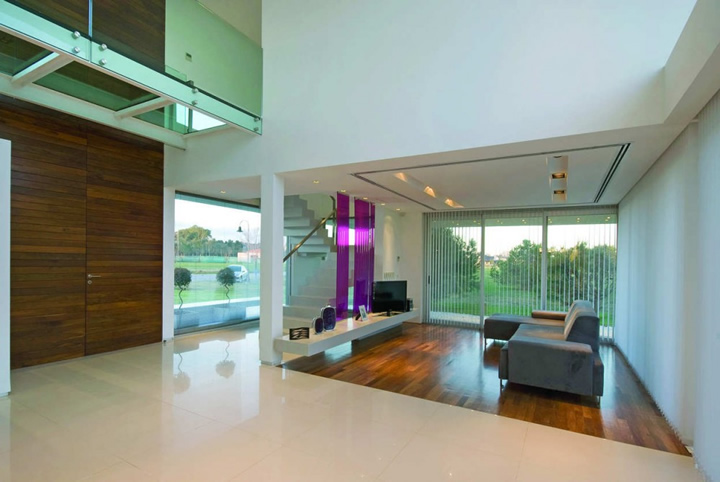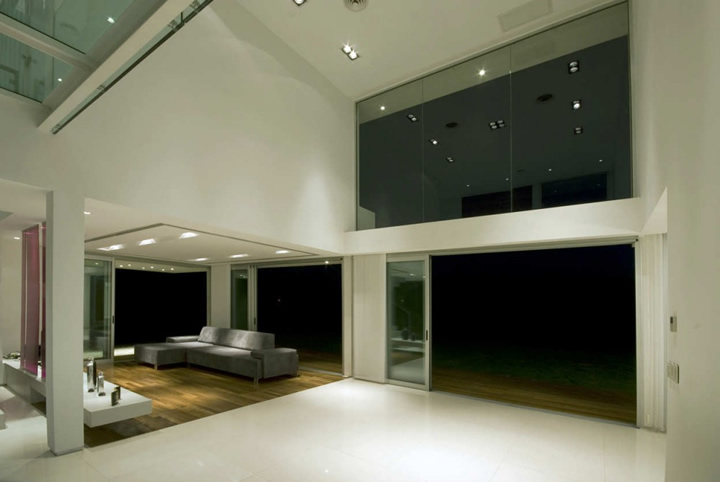 But not our house. Remember this post?
The sofa is a huge 10′ long so plenty of room for pillows. Still, I don't want to go overboard. Too many people make this mistake: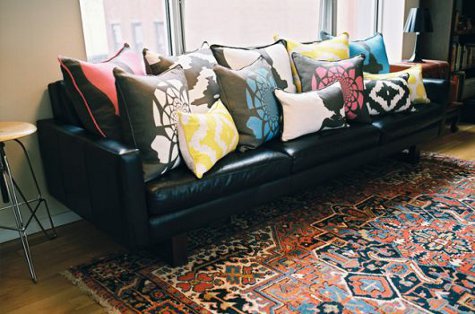 (Image via)
Where do you sit? So awkward when you visit people who decorate like this. Do you put the pillows on the floor? Is that rude? Do you perch on the edge? Jump backwards and try to land on top? Hmm…
Anyway, I think I could fit easily fit 5-6 on our couch without it looking crazy. So let's talk options.
Last year I discovered this pillow from Ikea and became obsessed.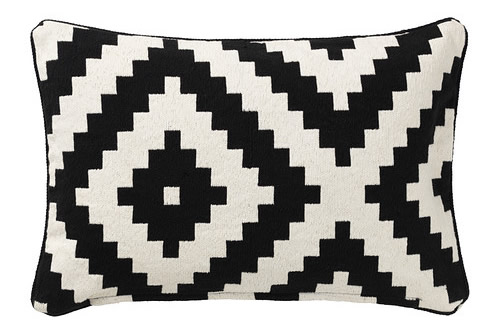 Apparently everyone else was too, because it was sold out for months at almost every Ikea location I checked with. I finally scored it in Atlanta on our way home from Christmas.
I loved it, but it looked terrible sitting there with my gray standard pillows. I thought for a minute that I shouldn't be pairing black and white with a gray couch, but after I took the gray pillows away it looked awesome. Now all I had to do was figure out what would work with this pillow and still work with my style.
One pillow that would look great with my couch and the LAPPLJUNG pillow is this one from CB2. I've had my eye on it since they released it forever ago. I love it. It's hotness embodied in a pillow. It's like a little black dress. Only not a dress and not black. But otherwise…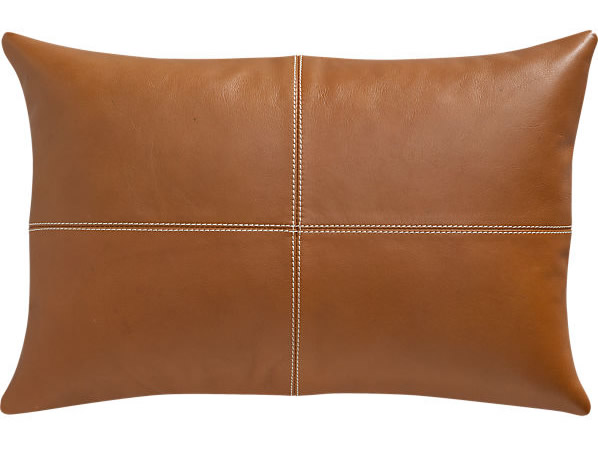 You get it, right? It's $59, but I have a $25 gift card to ease my tightwad conscience. Anyway, I think it would look pretty sweet with this pillow from Target.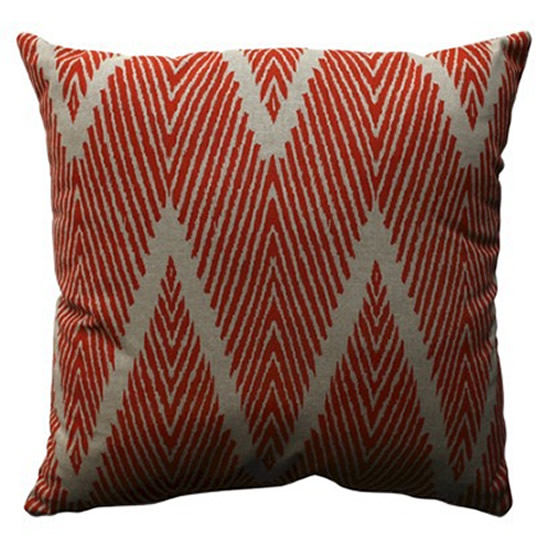 Never mind the crappy picture. Apparently Target did the photo shoot in the dark. The colors are burnt orange and bright white. My hesitation with this pillow is:
1. It's chevron (albeit a cool variation) and chevron is so OVER DONE.
and
2.  It's $50. That's like 3 – 5x what I normally am willing to spend on a pillow. BUT my mom always says it's worth splurging on something if you know your going to love it. I'm just not 100% sure it's a sing it from the rooftops kind of love.
I was in Target the other day on a mommy/son date with Ezra and after perusing the toy section for an hour, I told him it was time to look at my toys. We headed over to the decor section and eventually made our way over to the pillows. You have to check everything when you're at Target, because you never know if something cool is on sale. Turns out they were having a [measly] 10% off sale on pillows. But I gladly took whatever I could get $1.69 off this pillow: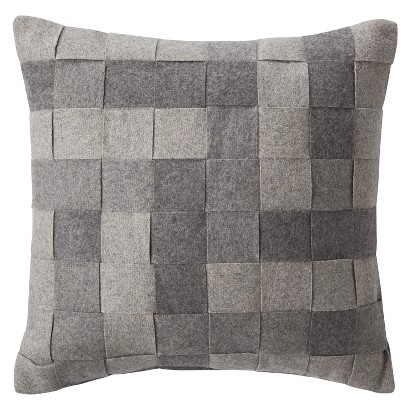 Cute, right? Ezra gave it two thumbs up and put it  in my cart right away (and like 5 others which I had to sneak back on the rack). It's happily lounging on the womb chair as we speak.
Now if I have the Ikea pillow, the gray checkered pillow and the [potential] CB2 pillow as a starting point, all I need to do is bring in color. The chevron pillow is one option, but like I said, I'm just not sure it's for me. After digging around a little I found several pillows that I'm totally crushing on. Behold: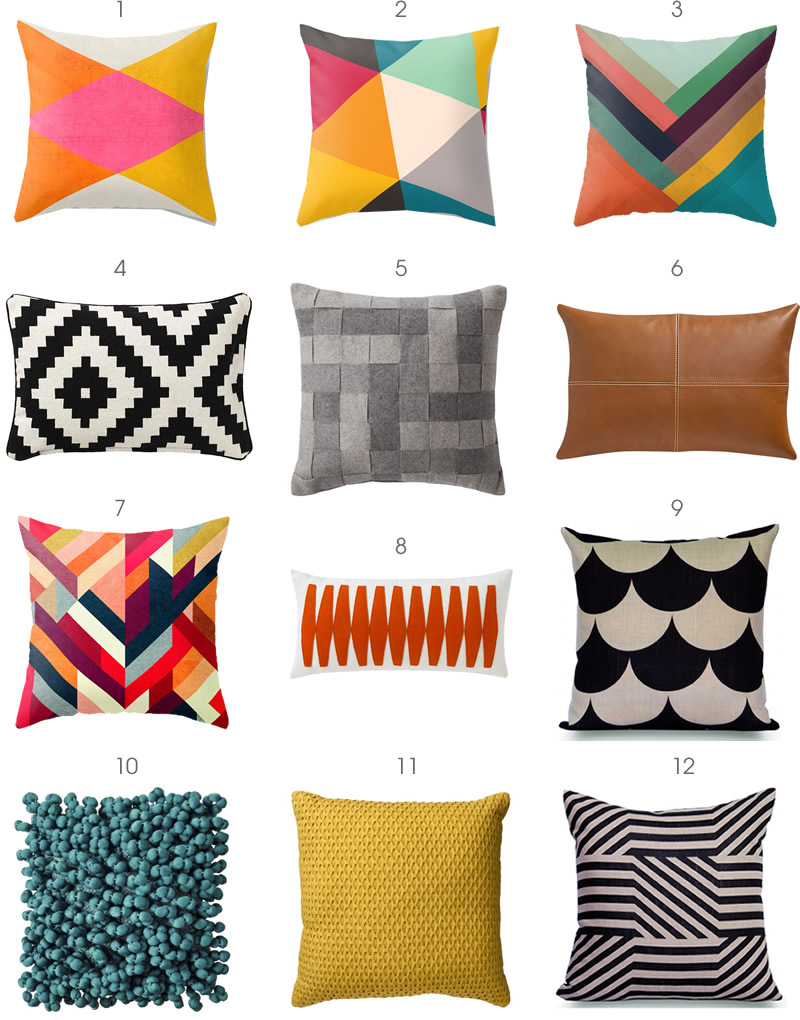 I'm not getting all of these. They're just options. Numbers 4, 5 and 6 I have/will have. Number 7 is a definite and I think #1 is as well, but really, I like them all. Numbers 9 and 12 are normally $170, but are on a crazy clearance sale right now for $35. The problem is it's just a cover so I have to pay extra for an insert. Also, shipping is like $8 for small piece of fabric. Same story with #8. It's a Dwell Studio cover so I would have to pay extra for the insert. It's on "sale" for $110, but you know there is no way I could every pay that much for a pillow. I'm thinking I could easily DIY them both. Numbers 10 and 11 are from Target. I think I need some solid colors. Do you agree? Maybe I should get the Target chevron now and bring the color in at the new year. Thoughts? Feelings? Emotions? Feel free to share your opinions and give me some pillow advice.